hdpe pipe specifications
HDPE PIPE for Water /Gas Supply
PE solid wall pipe takes HDPE as raw material, vacuum forming through extruding. It is the flex-tubing with smooth and flat internal and external wall.
HDPE PIPE for Water /Gas Supply
PE100/80
pipe for water supply specifications
: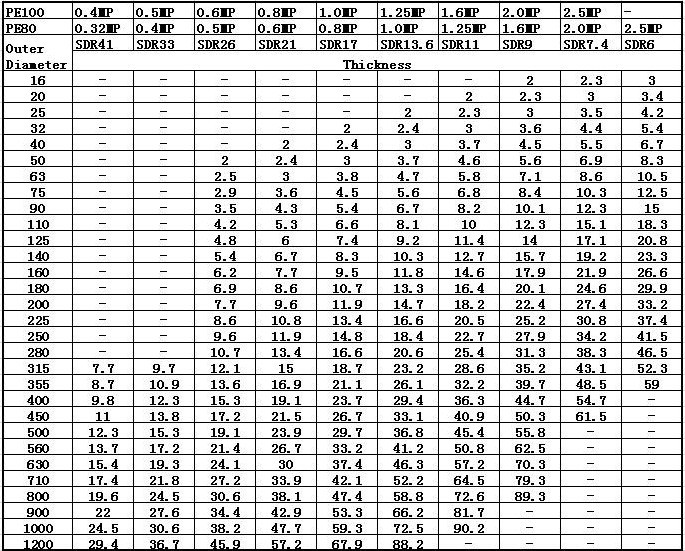 HDPE PIPE for Water /Gas Supply
1. Long working life. Minimum 50 years life under nomal conditions.
2. Hygiene. PE pipe are nontoxic, without the composition of heavy metal additives. No scale, not breeding germ, no second pollution to the potable water.
3. High resistance to attack from various types of chemicals. No electrochemical corrosion.
4. Smooth internal surface. Extremely low friction coefficient. Improved capability for media to pass through. Excellent abrasive resistance.
5. Good flexibility, high resistance to impact. Resistance to earthquake and twisting.
6. Light weight, easy to transport, convenient installation.
7. Unique electro fusion welding and butt welding make the joints stronger than the material, to guarantee a safe and reliable joint.
8. Simple welding technique, convenient installation. Total cost is low for the installation.
9. Polyethylene water pipes are produced in black, black with blue stripes and blue etc.
PE Pipe Connection:
Socket fusion, butt fusion joint, electro fusion joint, flanged joint
PE Pipe Application:
Water supply, industrial liquids transportation, sewage treatment. Mariculture, and agricultural irrigation, etc.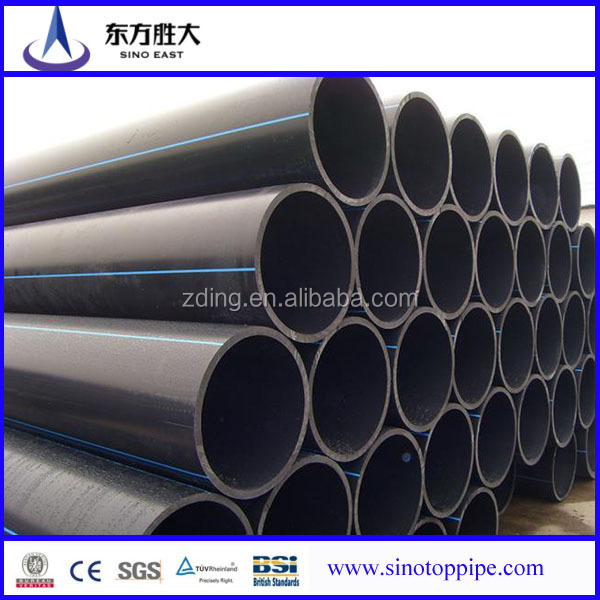 HDPE PIPE for Water /Gas Supply
Packaging Details
Our pipes could be packed by plastic firm and the fittings would be packed by carton box. Both of them could be loaded in 20',40' and 40' high container. For large diameter pipes, we could load them on the bulk vessel to save the shipping cost. Small diameter pipes should be put inside of the big diameter pipes.
Company Profile
Tianjin Sino East Group located at Jinghai Caigongzhuang Development Zone of Tianjin City. It nears to Jing (Beijing)-Hu (Shanghai) highway, Jin (Tianjin)-Cang (Cangzhou) hingway, Tianjin Port, Huanghua Port, Binhai New Area and faces to national market. At present, the company has grown into a high-tech enterprise with development, production, sale and service. It is specialized in producing HDPE high density PE double-wall corrugated pipe and large-diameter steel reinforced PE corrugated pipe for drainage, PE pipe and steel wire frame plastic (PE) compound pipe,sheet,PVC,PPR,PP,ABS. The company has passed the certification of ISO9001 system. Now it has more than 1000 staffs, 21 production workshops with annual output of 500,000 tons. The company was recognized by all customers because of excellent products and perfect service.
The company follows business philosophy of "customers first, to strive for progress" the "customers first" principle for the majority of customers with quality service. We sincerely would like to set up business relationship with clients from all over the world in long term.
FAQ
1. Surface Treatment: Do pipes need oiled if clients' wanted black/original surface?
Answer: Generally pipes don't need to be oilded, it'll be economic.
2. Certificate of Origin: Can you provide us certificate of Origin?
Answer: Yes, we could provide From-E, Form-F for example.
3. I've send the specification, why you couldn't provide a price for reference?
Answer: Just sending pecification is not enough. Generally, we need specification (width, out diameter, wall thickness,length), material, ends treatment, surface treatment, your quantity and other details.