hdpe large-diameter steel reinforced corrugated pipe with high strength
Steel Reinforced
Spiral
Corrugated Pipe
Introduction of HDPE Steel Reinforced Spiral Corrugated Pipe
Steel Reinforced Corrugated Polyethylene Pipe Characteristics:
1.High corrosion resistance and acid and alkali-resistance;
2.High ring stiffness,light weight and easy installation and construction;
3.High reliablity owing to seamless connection between inner wall bymeltingplastic;
4.Various connections could be choosed, simple and easy operation.
Steel Reinforced Spiral Corrugated Pipe
Attributes and advantages of HDPE
Excellent anticorrosion property: pipe material is anti-corrosive polyethylene from acid, alkali and oil content in sewage and wastewater.
Strong outside impact resistance: This is a flexible pipeline. Upon outside impact, it can well recover its original shape and will not fracture even in foundation sedimentation.
Strong ageing resistance: Material properties can guarantee more than 50 years' service life at 20°C, thus it has good property of ageing resistance.
Excellent cold endurance: The pipeline will not break or leak at the low temperature of -60°C.
Light weight: pipe weight is just 1/8 that of same sized concrete pipes, 2/3 that of the traditional plastic
corrugated pipe. It is convenient to transport and easy to install. No large equipments is needed.
Convenient connection: diversified and simple connection types, thus prompt and easy installation on site is available.
Simple execution of works with lower cost: As the pipeline is light in weight and easy to connect, it has little requirements on the excavation works. Much time and expenses could be saved in municipal drainage constructions.
Perfect anti-abrasion: Smooth inner wall and low friction coefficient bring strong capability to transport media.
Good environmental performance: The polyethylene itself is a non-toxic and recyclable material and not pollute the environment.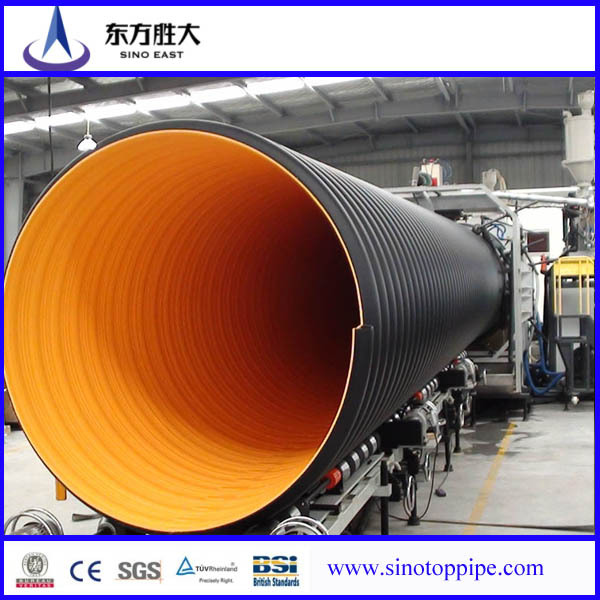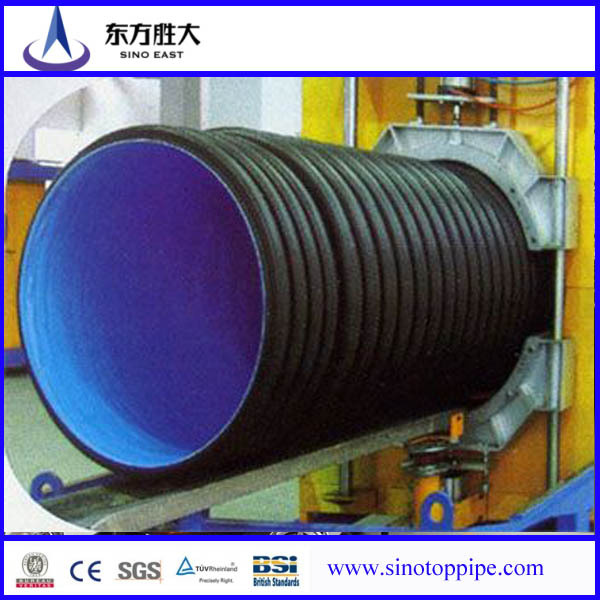 Packaging & Delivery
| | |
| --- | --- |
| Packaging Detail: | 1 Every tube is sleeved in plastic bag individually 2 Several tubes are packed by weaving bag 3 if the pipe is small, will be put into wooden case 4 Packaging as customer request. |
| Delivery Detail: | Within 20 days after receiving your deposit |
Specifications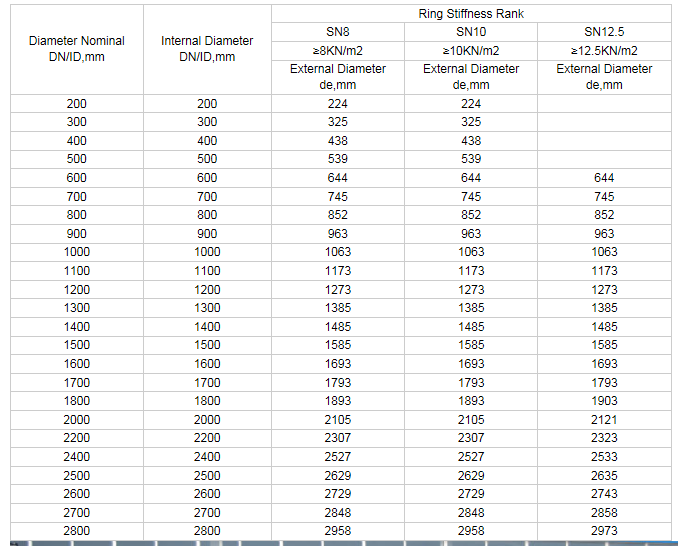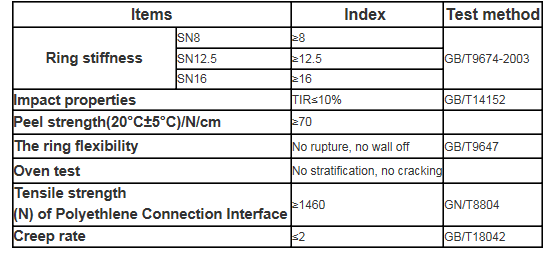 Steel Reinforced Corrugated Polyethylene Pipe Fields of Application:
1.Agricultural Irrigation: used as deep-well pipe, strainer pipe, culvert pipe, drainage pipe or irrigation pipe etc.
2.Municipal Engineering: blow-off line, fire fighting pipeline, water supply, backwater, natural gas pipeline, etc.
3.Chemical Engineering: Discharge pipeline for corrosive gases, liquid, dust in industries of Acid, Alkali, salt manufacturing , Petro-chemical, chemical fertilizer, pharmaceutical, plastic,etc.
4.Oil-gas Field: pipeline for gathering oily sewage, gas-oil mixture, as well as secondary and tertiary oil recovery.
5.Thermal-electricity Engineering: pipeline for industrial water supply, backwater, conveyance of industrial waste residue, etc.
6.Metallurgy and mine: conveyance of corrosive medium, mining pulp, tailing and waste water during ferroalloy smelting; pipeline of conveying Coal Methane and water.
7.Highway construction: drainpipe and cable duct tube.
8.Ocean engineering: conveyance of sea water, offshore pipeline, cable/ optical cable duct tube.
9.Shipbuilding: ship pipeline, ballasting pipe, vent-pipe.
Our service
1. Quick, efficient and professional response within 24 hours, 14 hoursonline services
2. 15 years manufacturing and exporting experience in plastic pipe&fitting field.
3. Technical support and solution by chief engineer.
4. Strict quality control system & team.
5. Full range of pipe&fitting products for choice .
6. OEM/ODM services of hdpe water pipe. 7. Accept sample order before Mass Order.
Company information
Tianjin Sino East Group located at Jinghai Caigongzhuang Development Zone of Tianjin City. It nears to Jing (Beijing)-Hu (Shanghai) highway, Jin (Tianjin)-Cang (Cangzhou) hinghway, Tianjin Port, Huanghua Port, Binhai New Area and faces to national market. At present, the company has grown into a high-tech enterprise with development, production, sale and service. It is specialized in producing HDPE high density PE double-wall corrougated pipe and large-diameter steel reinforced PE corrougated pipe for drainage, PE pipe and steel wire frame plastic (PE) compound pipe. The company has passed the certification of ISO9001 system. Now it has more than 300 staffs, 21 production workshops with annual output of 50,000 tons. The company was recongnized by all customers because of excellent products and perfect service. The company follows business philosphy of "customers first, to strive for progress" the "customers first" principle for the majority of customers with quality service. We sincerely would like to set up business relationship with clients from all over the world in long run.
FAQ
1. Q: What's your MOQ(minimum order quantity)?
A: One full container.
2. Q: What's your payment terms?
A: T/T 30% in advance & T/T 70% upon sending the copy of Bill of Lading, L/C 100%, or negotiate according to the order status.
4. Q: What's your delivery time?
A: 10-20 days after received the advance payment or L/C.
5. Q: Are you manufacturer or trader?
A: We are the munafacturer of HDPE pipe for decade years. Our group company has 8 subsidiaries and 4 factories, coveraged every HDPE pipel.
6. Q: Where's your factory?
A: Our factory is in Tianjin city (near Beijing) afforded enough production ability and earlier delivery time.
7. Q: Can we visit your factory?
A: Warmly welcome. Once we have your schedule, we will arrange the professional sales team to follow up your case.
8. Q: Can you supply other HDPE pipe?
A: Yes. All related HDPE pipe.
(1)High density PE double wall corrugated pipe.
(2)Large diameter steel reinforced PE corrugated pipe.
(3)Mining/water supply/natural gas PE pipe.
(4)Ground source heat pump high density PE pipe.
(5)Socket rubber sealing ring connection