HDPE Double-Wall Corrugated Pipe for Sewage
HDPE double wall corrugated pipe
Product Description
1..Economic: with low cost than other same specifications plastic pipes, light weight,transportation, construction, management and maintenance of provinces expenses is convenient, large diameter, ring high stiffness.
2.Excellent corrosion resistance: won't be sewage and waste water and chemical corrosion and won't be soil rot in material and corrosion, also won't be plant root destruction.
3.Ageing resistance: pipe is commonly black and can withstand piled up and construction process fo sunlight straight bask in.
4.Wear-resisting superior performance: than steel tube,iron pipes, cement tube wear resistance.
5.Drain liquidity superior:tube wall flow resistance small,drainage speed, the post-coling water ability strong, large flow.
6.Each layer of the compound is in plastic melt condition, and winding melt comletely different. so every layer agglutinant composite fastness is very reliable.
7.Tubing can use hot melt welding, heat shrinkable belt connected and so on may kinds of connection modes, adopt to different pipe lines system demand, convenient and reliable.
Advantages
1. Non-toxic:
PE pipe material is nontoxic, tasteless, it belongs to green building materials, never scaling, which can effectively improve the water
Quality. It is hygienic safety, recycle and environment-friendly
2. No Leakage:
PE pipe is connected in the ways of butt fusion, socket fusion and electrofusion and the strength of joint point is higher than tube itself.
3. Easy Installation:
HDPE pipe is Light Weight, has excellent flexibility
4. Corrosion resistance:
High resistance to attack from various types of chemicals. Chemically Inert
5. Lower costs:
PE pipe is not only convenient to transport and install, but also reduce the worker's labor intensity and improve work efficiency.
6. Longevity:
50 years under pressure use.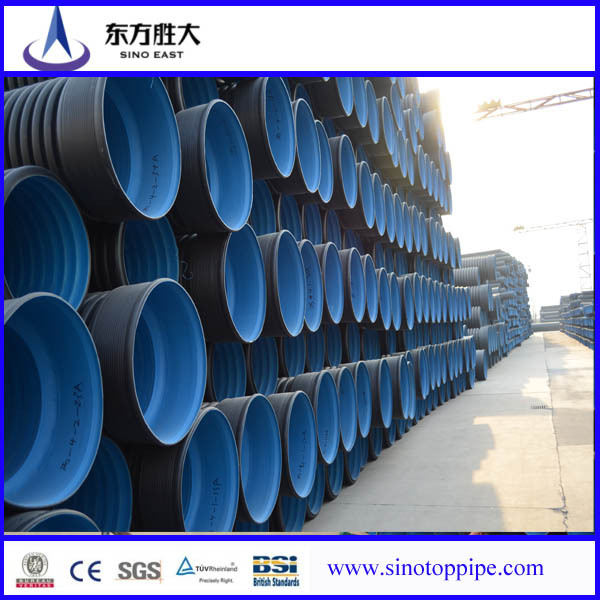 HDPE double wall corrugated pipe
DN
Min Ave Diameter
Min inn WT
Min laminated WT
Bonding Length
200mm
195mm
1.1mm
1.5mm
54mm
300mm
294mm
1.7mm
2.0mm
64mm
400mm
392mm
2.3mm
2.5mm
74mm
500mm
490mm
3.0mm
3.0mm
85mm
600mm
588mm
3.5mm
3.5mm
96mm
700mm
685mm
4.0mm
4.0mm
102mm
800mm
785mm
4.5mm
4.5mm
118mm
Material
Section shape
PN Grade
Color
Certifaction
HDPE100
Round
0.6-1.6MPa
Black or white with blue stripe
ISO9001:2008
Standard
GB/T13663-2000
SDR rating

| | |
| --- | --- |
| SDR11 SDR13.6 SDR17 SDR21 SDR26 | |
HDPE double wall corrugated pipe
products application
1.City and town water supply.
2.Sea bed water supply.
3.Food and chemical industry .
4. Replacement of cement pipes, cart iron and steel pipes.
5. Sacrilegious silt, mud transportation.
6. Garden green pipe networks.
7. Sewage treatment .
8. Gas supply system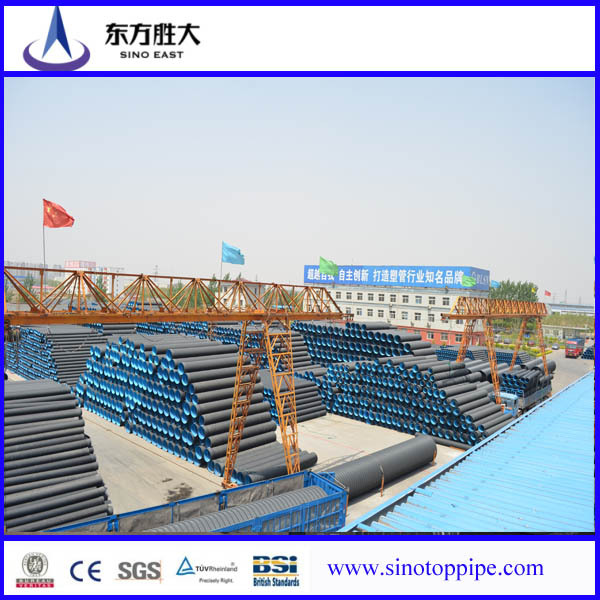 HDPE double wall corrugated pipe
packing and shipping
Our pipes could be packed by plastic firm and the fittings would be packed by carton box. Both of them could be oaded in 20',40' and 40' high container. For large diameter pipes, we could load them on thebulk vessel to save the shipping cost. Small diameter pipes should be put inside of the big diameter pipes.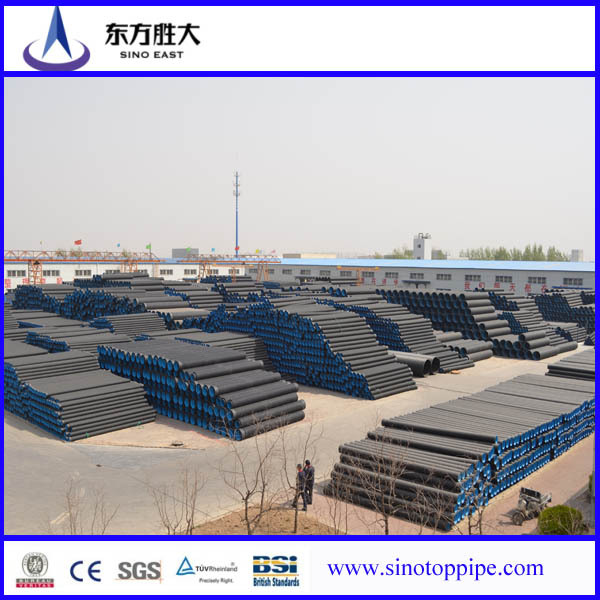 HDPE double wall corrugated pipe
our service
1. Quick, efficient and professional response within 24 hours, 14 hours online services
2. 15 years manufacturing and exporting experience in plastic pipe&fitting field.
3. Technical support and solution by chief engineer.
4. Strict quality control system & team.
5. Full range of pipe&fitting products for choice . 6. OEM/ODM services of hdpe water pipe.
7. Accept sample order before Mass Order
HDPE double wall corrugated pipe
FAQ
1. Q: What's your MOQ(minimum order quantity)?
A: One full container.
2. Q: What's your payment terms?
A: FOB:30% advance payment by T/T ,the balance money before shipment .
4. Q: What's your delivery time?
A: 10-20 days after received the advance payment or L/C.
5. Q: Are you manufacturer or trader?
A: We are the munafacturer of HDPE pipe for decade years. Our group company has 8 subsidiaries and 4 factories, coveraged every HDPE pipel.
6. Q: Where's your factory?
A: Our factory is in Tianjin city (near Beijing) afforded enough production ability and earlier delivery time.
7. Q: Can we visit your factory?
A: Warmly welcome. Once we have your schedule, we will arrange the professional sales team to follow up your case.
8. Q: Can you supply other HDPE pipe?
A: Yes. All related HDPE pipe.
(1)High density PE double wall corrugated pipe.
(2)Large diameter steel reinforced PE corrugated pipe.
(3)Mining/water supply/natural gas PE pipe.
(4)Ground source heat pump high density PE pipe.
(5)Socket rubber sealing ring connection