Ground source heat pump high density PE pipe
Ground source heat pump pipe
Geothermal heat pipe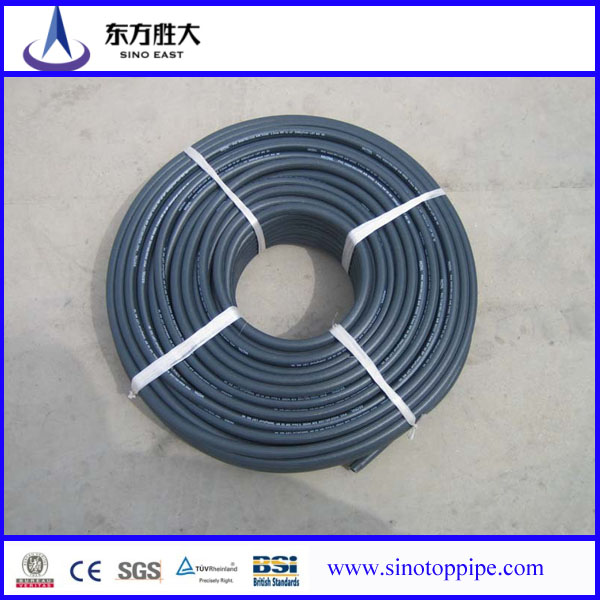 Dedails:
specification:32-1000mm
material: high density polyethylene
length: 100m/coil or as request
color: black with blue line or as request
pressure grade: 0.6-1.6Mpa
wall thickness: SDR11
connection: socket fusion, butt fusion, electro-fusion
application: air-condition system,etc.
standard: ISO9001,ISO14001,GB/T13663-2000, GB/T13663.2-2005, BV certificate
packing: standard export packing
delievery time: 15-30 days
Geothermal pipe transfers heat from the ground into a building to provide space heating and to pre-heat domestic hot water.
Geothermal exchange is a clean energy method of heating and cooling commercial and residential buildings. The technology is proven and has been in use for decades. In simplest terms, PE pipe is buried in the ground, allowing energy transfer between the fluid in the pipe and the earth. The fluid in the piping is warmed in the winter and cooled in the summer. The system consists of buried PE pipe, a heat pump, and air distribution system.
Product features:
1, Tubing chemical performance is stable, corrosion resistance, offset the insufficiency of metal pipes in this aspect.
2, Easy to bend or hot melt to be a more solid shape, and has good compression ability connect with pipes, not easy to leak.
3 save investment - the initial investment is large, but low operating cost, the investment capital could be recovered in short term. .
4, Underground heat exchange tube use high-density polyethylene pipe. Service life for 50 years.
5, Environmental protection and energy saving: the use of electricity, no combustion process, as to the surrounding environment, taintless discharge; Need not use cooling towers, have no outside hang, do not discharge heat to the surrounding environment,
No thermal conductivity effect, no noise; Do not extract groundwater, without destroying the groundwater resources; Operating cost only 40 ~ 60%for the traditional central air conditioning.
6, A tractor serves 3 purposes: heating in the winter, refrigerating in the summer and providing water annual year. It is 2-4 times as to spilt-type and window air-conditioner. Controlled by computer, and stable performance,
It can be controlled by phone, going to temperature and humidity control and fresh air distribution.
Advantages:
1. Lower energy costs and environment impact - a geothermal system uses 25-50% less electricity than conventional forced air heating or cooling systems. This means the less energy needed from burning fossil fuels that are harmful to the environment.
2.Free or Cheap Hot Water - unlike any other heating and cooling system, a geothermal heat pump can provide free hot water using a device called a "desuperheater".
3.Year-Round Comfort - maintains an even temperature and humidity level throughout your home with very little noise.
4. Design Flexibility - geothermal heat pump systems allow for design flexibility and can be installed in both new and retrofit situations.
5. Improved Aesthetics - geothermal systems are easy to conceal, don't require cooling towers, eliminate conventional rooftop equipment, less potential for leaks and ongoing maintenance, better roof warranties, allowing architects and building owners to plan for more aesthetically pleasing architectural designs and roof lines.
6. Low Maintenance - since workhorse part of the system - the piping - is underground or underwater, there is little maintenance required.
7.Zone Heating and Cooling - different areas of the building can be heated or cooled to different temperatures simultaneously, i.e., the heat from computer rooms can be moved to the perimeter walls for winter heating in commercial buildings.
8. Durability - with virtually no moving parts, and parts that are sheltered inside a building, a geothermal heating system is durable and highly reliable. Our piping has a life span expectancy of up to 50 years or more.
Applications of Geothermal Pipe:
Geothermal heating systems are a viable alternative anywhere there is a need for heat or cooling. Using the ground or pond as a heat sink in the summer and a heat source in the winter, heat is transferred from the ground in the winter and extracted from the building in the summer. Because of their design flexibility, they can be installed in both new and retrofit situations. Because the hardware requires less space than that needed by conventional HVAC systems, the equipment rooms can be greatly scaled down in size, freeing space for productive use. And since they usually use the existing ductwork in the building there is no need for any extensive renovations. This makes geothermal heating perfect for historical buildings, greenhouses, resorts and any high energy user with long operating hours.